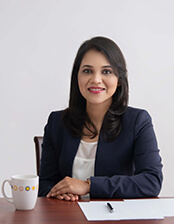 Dr. Priya Bansal
Delhi
Membership No.: 2019/ND/65
---
About Me
Dr Priya Bansal is a board-certified female plastic surgeon. She has her surgical practice in Delhi.
She pursued her DNB in plastic surgery from Maulana Azad Medical College, one of the best medical colleges of in India
She has won a Gold Medal for her surgical expertise and skills
She has been awarded the Best Investigator Award by ISBI in 2016
She has fellowship in–
Rhinoplasty under Dr Nazim Cerkes from Turkey.
This exposure also has enabled her to experience the best practices in other parts of the world and implement them in India.
Her single point focus is working in the best interest of every single one of her patients, and she leaves no stone unturned to give them the best possible outcome, to make them feel beautiful about themselves. She follows an investigative approach to her treatment plans – every detail which may seem minor is important, and her gentle prodding of her patients to reveal their innermost desires while also sharing every aspect of their medical history ensures that there is no margin for any error. Dr Priya Bansal is committed to achieving the perfect course of action for the perfect surgical outcome.
---
---