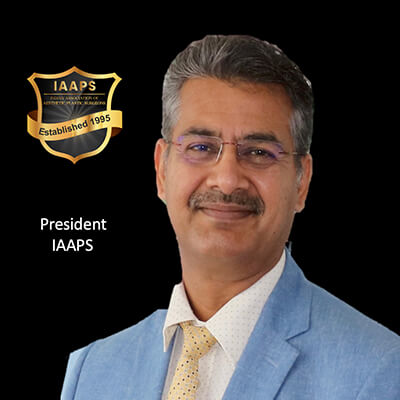 Dr Aditya Aggarwal
President IAAPS, Vision Statement
Dear Colleagues. Thank you all for the responsibility of the Presidency of the IAAPS, I am most honoured and humbled by it.
Aesthetic surgery is expanding in India and so is the fraternity –there is a youthful generation of surgeons with aspirations towards excellence in work and balance in life
To translate this we need efficiency, consistency and social bonding
As the incoming team with many youthful members, we hope that we will be able to work with you to make these aspirations a reality
With our theme of Precision and perfection, we will organize interactions through the year targeted to improving skills, branding and expansion of our scope to a more global vision.
We will also continue to strengthen our inward efforts working with the government to define and strengthen the association's scope, with focus on ethics and patientcare.
In this year we will focus on innovation and propose to initiate a journal of the Indian aesthetic Association.
I look forward to the guidance from my seniors and support from you all to make this tenure a success.
All our efforts will culminate in the conference in New Delhi 2024 -look forward to seeing you all In New Delhi.