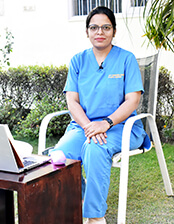 Dr. (Maj) Samiksha Tyagi
Noida, Delhi NCR
Membership No.: 2021/UP/32
---
About Me
---
Dr. (Maj) Samiksha Tyagi. Consultant Cosmetic & Plastic Surgeon
Arinut Cosmetic & Plastic Surgery Center Noida, Delhi NCR.
Performed more than 6000 surgeries. Prior experience of working with Indian army as Plastic surgeon at Army Hospital Research & Referral New Delhi.
Address – A-107, Near Mother's
Pride School, Sector 93B,
Noida, Uttar Pradesh 201304
Dr (Maj) Samiksha Tyagi, best female Plastic Surgeon in India, Delhi NCR. With more than 8 years experience in serving patients from all over India. Arinut Cosmetic & Plastic Surgery Centre specialises in Cosmetic surgery and Anti ageing. Non surgical treatments offered are :
Anti Wrinkle treatment
Botox
Fillers (Liquid Facelift)
Lip Augmentation
Laser Hair Reduction
Medifacial
Hair & Face PRP treatment
Dermapen 4 treatment
Acne /pimple scar treatment
Surgical treatments offered are:
Gynacomastia,
Liposuction, Body Contouring
Rhinoplasty (Nose Job),
Breast Surgery (Augmentation/Reduction)
Blepharoplasty
Fat Grafting
Scar treatment
Otoplasty
Tummytuck
Abdominoplasty
Thighlift
Dimple Creation
Hair Transplant
Burn Scar treatment
Clients are our top most priority. We believe in delivering quality services, and with most natural results. Be ensured about patients comfort, surgical results and top class services.
---