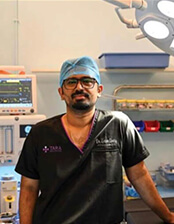 Dr. Karan Shetty
Bengaluru
Membership No.: 2021/KA/29
---
About Me
Dr. Karan Shetty is a board certified Plastic,Aesthetic & Reconstructive surgeon and a facial rejuvenation and body contouring surgeon practicing in Bangalore,India. He has trained globally with plastic surgeons around the world to attain world class skills in body sculpting and facial rejuvenation and breast surgeries.
He has completed his training in Supermicrosurgery from the University of Tokyo, Japan. He was selected for the prestigious DAFPRS (Dutch Association of Facial Plastic & Reconstructive Surgeons) Fellowship in Rhinoplasty & Facial Aesthetics in Stuttgart, Germany. He has also undergone training in Breast Aesthetics & Body contouring in University Hospital Moncloa in Madrid,Spain under Dr.Jorge Aso.
He is the founder director and chief plastic surgeon at Tara Healthcare locate in Jayanagar ,Bangalore which includes
1)Tara Institute Of Plastic Surgery and Cosmetology
2)Bangalore Diabetic Foot and Woundcare Centre
3)Tara institute for Transgender Health
4)Dermatology
5)Orthopaedics
6)Obstetrics and Gynaecology
Dr.Shetty also holds an Assistant Professor post in Plastic Surgery in Bangalore Medical College & Research centre.
---
---