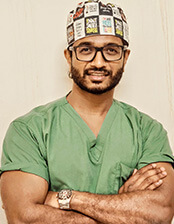 Dr. Jyoshid R Balan
Thrissur
Membership No.: 2021/KL/25
---
About Me
Dr. Jyoshid R Balan is a Board Certified Plastic Surgeon who is highly skilled in reconstructive, cosmetic as well as brachial plexus surgeries, facial rejuvenation as well as numerous other cosmetic surgical procedures.
He earned his Undergraduate Degree MBBS from Medical college Calicut. After graduating with the highest honors and multiple academic awards, Dr. Jyoshid studied MS General surgery from the premier institute of India, JIPMER Pudicherry. He was very lucky to be trained in Plastic surgery from PGIMER Chandigarh, which is one of the premier institute second to none.
Dr. Jyoshid completed his DNB plastic surgery from national board of education India. Since then, he has spent the past 10 years dedicated to designing an integrative approach to health, wellness, nutrition, and surgery in order to further evolve his practice beyond the current standards.
"I believe in the policy, when you do something do it properly." -Dr. Jyoshid R Balan.
Dr Jyoshid has authored many articles in international and national journals as well as written a few chapters in Books in well recognized publishers. He is a well-respected faculty in national and international platforms.
---
---