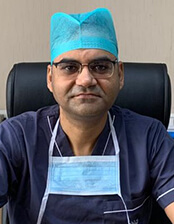 Dr. Ashit Gupta
Gurgaon
Membership No.: 2019/HR/10
---
About Me
"Dr. Ashit Gupta is a dynamic cosmetic and hair transplant surgeon with a vast experience of more than a decade. He is credited to have performed hundreds of Hair Transplants. His expertise lies in performing Mega Session Hair transplants grafting more than 5000 Hair Follicles in one session. He is one of the few hair transplant surgeons to have mastered the art of FUE hair transplant.
FUE is a special technique of hair transplant wherein a single hair follicle unit is transplanted instead of the whole strip being taken out of the patient's head. This eliminates the scarring at the back of the head and gives a more aesthetic look.
He is presently Managing Director and Chief Cosmetic Surgeon at Delight Hair Transplant, Laser and Cosmetic Surgery Centre.
He is an alumni of Christian Medical College Ludhiana. Dr. Ashit Gupta has acquired his extensive training under the Stalwarts of Plastic Surgery, Dr. Abraham Thomas and Dr. Vijay Obed. He is a skilled surgeon for all kinds of cosmetic surgery including Hair Transplant, all types of Lasers, breast augmentation, Rhinoplasty, Male breast reduction and more."
---
---