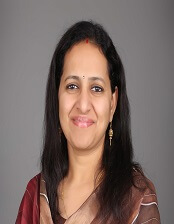 Dr Pinky Devi Ayyappan
Bengaluru ,India
Membership No.: 2020/KA/26
---
About Me
Mch plastic surgery,DAFPRS cosmetic surgery (Belgium).
Aesthetic surgery, has always excited me. It empowers the surgeon to create and bring to life one's perception of themselves. The intent of honing my skills and delivering the best took me around the world for training with the best of institutions.
Here's a bird's eye view of my learning…
After completing my MCh in Plastic Surgery from BMCRI, Bengaluru, where getting a seat itself is an achievement, I traveled to Seoul to learn facial cosmetic surgery, ear reconstruction, and double eyelid surgery. I came back to India and worked under a senior Plastic Surgeon for a year. My quest for perfection then took me to Italy, where I refined my skills in facelifts. I was selected for the highly competitive and sought after DAFPRS fellowship in Cosmetic Surgery, under the tutelage of the pioneers of MACS lift. During my 3-month stay in Belgium, I gained exposure to the entire range of cosmetic surgery. It was like manna from heaven for a thirsty soul. Now, I am happy to be back in India, eager to make a difference in the lives of my people.
---
---