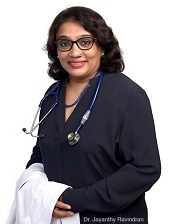 Dr. Jayanthy Ravindran
Chennai, India.
Membership No.: 2015/TN/10
---
About Me
Dr. Jayanthy Ravindran is board certified and trained plastic surgeon specializing in cosmetic Surgery and Aesthetic Medicine. With a master's degree from AIIMS and DNB from Apollo National Institute of Hand, Microsurgery and Reconstructive Plastic, she has over 15 years of experience in cosmetic surgery and aesthetic healthcare. With her innate desire to give quality care to people and serve society, she chose to become a doctor.
Her thirst for perfection and the aim of offering quality services comparable to international standards in India took her to Europe where she completed her Advance Fellowship in Belgium , Germany and Singapore under the guidance of Dr.Tonnard , Dr.Gubisch and Dr Woffles Wu all renowned specialists in their respective domains.She is one of the few in the country to have special training in Hair restoration both medically and surgically. She is certified by Darling Buds Chandigarh and Hair sciences center Colorado for training in FUE technique of hair transplant.
Her approach has been to focus on the patient needs and to deliver highest standard care to every one of them, which is why she keeps herself up to date with the latest developments in terms of procedures, technology and know-how. Dr. Jayanthy's passion lies in bringing a smile on her patient's face when they experience a change in their appearance and self-esteem. It is this very passion that has earned her acclaim from patients and peers.
Her passion to demystify and improve aesthetic healthcare in India led her to create an Institution of excellence in Aesthetic Healthcare focusing on teaching along with research and development – Tamira Aesthetic Healthcare. Currently she is the Founder and Managing Director of Tamira Aesthetic Healthcare.
Dr. Jayanthy's expertise in complex surgical techniques such as Hair Transplants, Liposuction and Gynecomastia, artistic sensibility and meticulous skillalong with her numerous academic achievements and accolades make her one of the most sought-after names in Cosmetic Surgery not just in India but also among international patients from Asia, Africa, Middle East, Europe & North America.
---
---